Yesterday was one long adventure. The day started early and ended late but every moment was really great!
1) Brady and I had to go up to Salt Lake for an insurance meeting for work. We left at 7:30, meeting started at 9 and then ended at 11:30. I'm really liking learning all this stuff about insurance and working in insurance. And, I get to work at the same office as Brady a couple days a week.
2) After the meeting, little did I know, that Brady wasn't planning on going back to work. He wanted to have an adventure. So we did. We started out by driving around Salt Lake having no idea where we were going. We ended up driving around downtown admiring the unique architecture of places, driving around the University of Utah (not my favorite place, definitely one of Brady's favorite places), and then up at the state capitol. We went on a self guided tour and enjoyed exploring the place.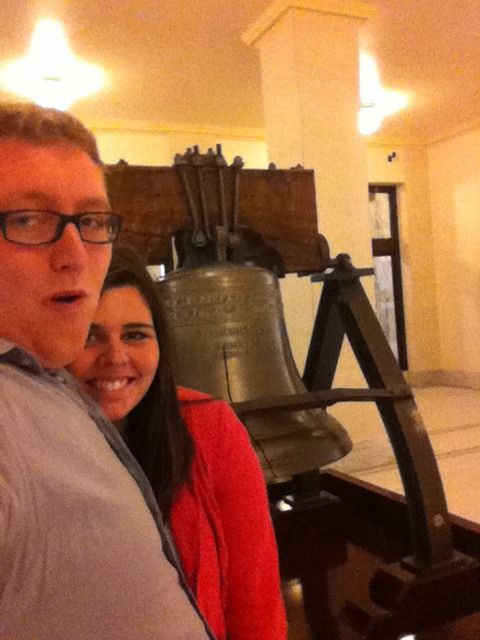 Replica of The Liberty Bell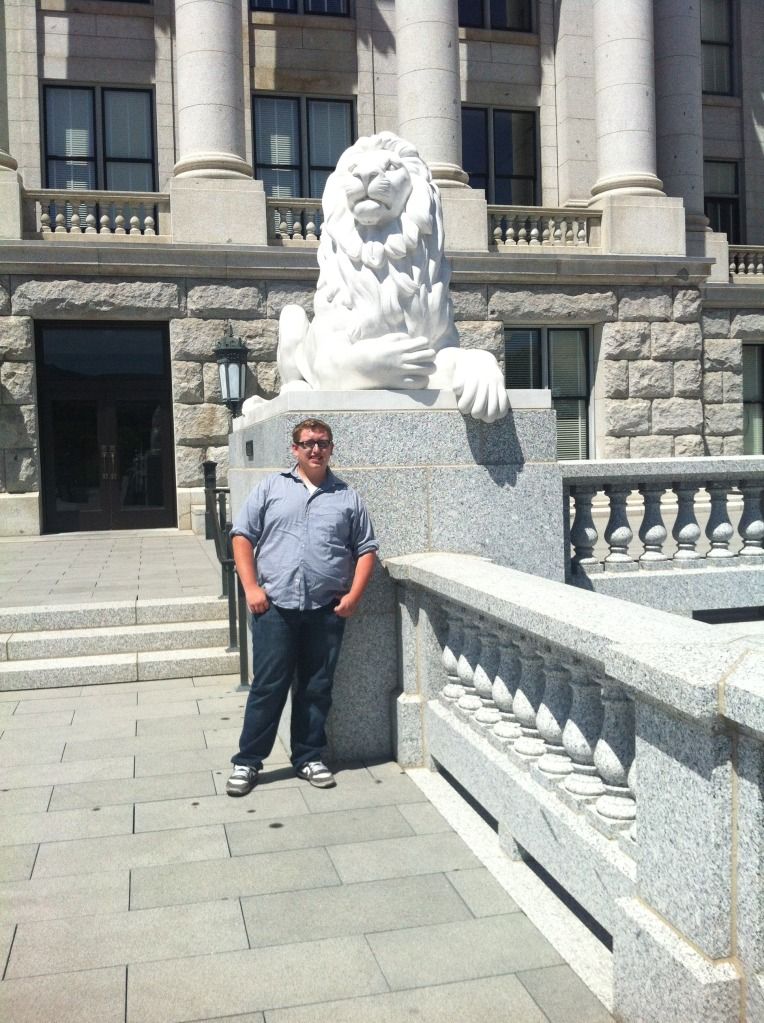 Brady really loved that lion. It was a necessity that we take that picture according to him.
3) Then we went to City Creek to try window shopping. I didn't have any money to spend, but we ended up there anyways. Let's just say...i'm a weak shopper. Even when I say i'm not going to spend money, if I find cute shoes on sale for a good price....yikes. I'm in trouble. I resisted the sale items at H&M but then found the best shoes at Vans. I wanted them so badly. Brady was the strong one who convinced me not to buy the shoes. We left shortly after that, because i'm a girl, and will shop given the opportunity regardless of money or not. haha!
4) The we made our way back towards home, but not without a stop at Ikea! Sounds so random, but really yesterday was an adventure day. We did whatever sounded fun at the moment. We started our trip by getting lunch at the restaurant there and then made our way through the show rooms. I love that place! Brady may have not liked shopping at City Creek, but he definitely loved shopping at Ikea. He speaks his opinion more openly about furniture and home decor than he does about clothes I want to buy. lol! We loved pretending that we were picking out furniture for our first apartment. We share the same style when it comes to this stuff, so I have a feeling that when we do decorate our first apartment together, it's going to be very easy.
5) After Ikea, we headed home. I went to my parent's house and Brady went back to his house. I put together the lamp I bought at Ikea and Brady took a nap. haha! We both needed a little rest before going back out to continue the adventure.
6) After our little break, we went out to dinner with Brady's mom and sister. Cafe Rio is always amazing. Love that place! Then we went back to his house. Got in a huge tickle fight, the winner is still undecided because we had to truce after both of us ended up on the floor. I love tickling Brady, don't love getting tickled back as much! haha! Then we watched Crazy, Stupid, Love. I love that movie! Then we headed out for a short drive before calling it a night.
The day was packed with activities, lots of laughs, and lots of fun! I loved just doing whatever we felt like. It was great! We have lots of ideas for our next day like this, which i'm thinking will included a trip to the zoo. :) It's great to just enjoy the days we get to spend together and not stress about having to stick to a schedule. I loved it! It was not just day a more than just peachy moments, it was a day spent making memories as a couple together. August 1st was good to us. 26 days til school starts. Time to make the final summer list and enjoy the time left in this one great summer!